Mobile Asphalt Plant in Thailand- MAP1000
Installation Time: May, 2017
Location: Thailand
Equipment: MAP1000 Mobile Asphalt Mixing Plant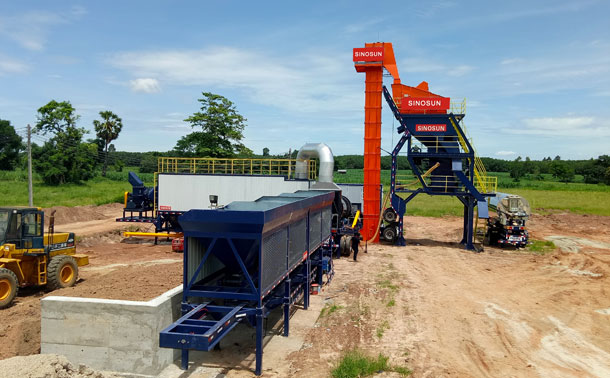 Client Requirement:
This customer is introduced by our old customer in Thailand. He has inspected our other asphalt batching plants in other Thailand locations and asked us to introduce a full mobile 80TPH asphalt mixing plant for they often change work site. He also hope the asphalt plant could be finished as soon as possible.
Solution Offered:
We offered our new model MAP1000 mobile asphalt mixing plant, this is full mobile type. It includes mobile cold aggregate feeding system, mobile drum dryer and burning system, mobile bag house dust collector, mobile bitumen tank, mobile control system, mobile mixing tower. All the parts are mounted on mobile chassis.
It's easy for transportation.
The mixing tower is special designed, vibration screen, storage hopper, weighing hopper and mixing layer all mounted on one chassis, no need assembly again and again.
Aviation Plugs, it is easy connection when change worksite, save time and labor cost.


Installation and Commissioning
After 7 days installation and connection, we three engineers are prepare the production test. Firstly to check all the electrical connection, then to test the motor one by one.
Then we begin test the burner, the one of the most important part of the mobile asphalt plant.
After the burner is ok, we load the raw materials to make products.