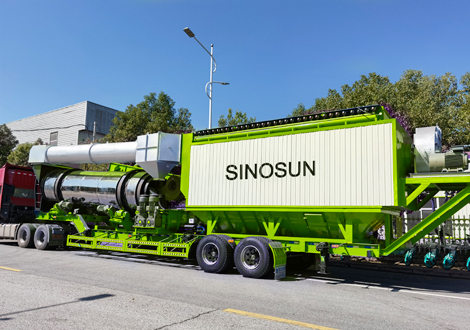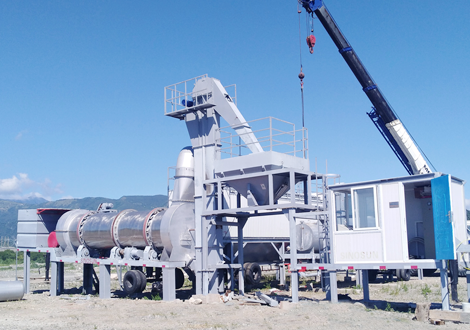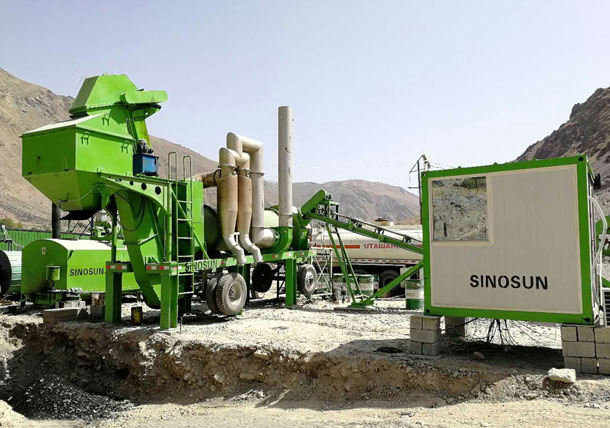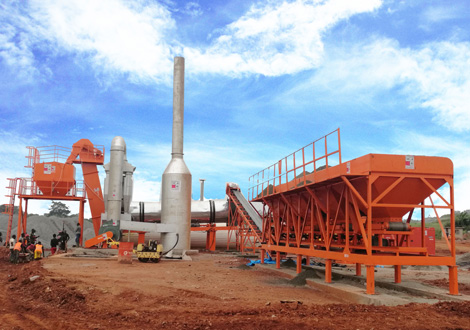 Drum Mix Asphalt Plant
> Application: Mainly applied to the construction of expressway, grade roads, municipal roads, airports, ports etc and ideal for production of asphalt mixture, modified asphalt mixture, color asphalt mixture…
> Capacity Range: 20-120TPH
> Certification: ISO, CE, EAC Certification
> Motor Power: 94-244KW
Get a Quote
Ⅰ. SINOSUN - Trailer type Continuous Mix Asphalt Plant (capacity scope: 20-120t/h)

SINOSUN trailer type continuous drum mix asphalt plant is new design on basic of the CAP series asphalt drum mix plant, realizes the high integration of the plant,the compact structure design, make the equipment occupy small area of ground, it's easy to transport,transfer site, and recommissioning, also it is equipped with high level dust filter(High Voltage Pulse Bag House Dust Filter), more environmentally friendly. The burner used for this new designed asphalt plant, can be oil(Light/Heavy oil) or gas, clients can choose the burner according to their local resource supply.


Ⅱ. CAP Series Asphalt Drum Mix Plant
Overview:
SINOSUN CAP Series Asphalt Drum Mix Plant is designed with a simple structure. It is easy for installation, operation and maintenance . This series can be stationary type or mobile type.
SINOSUN Asphalt Drum Mix Plant is very popular in South America, Africa, Southeast Asia. This series drum mix asphalt plant is with capacity scope: 20-80t/h.

Features:
CAP series Asphalt Drum Mix Plant: heating and drying are within a cylinder, continuous mixing, Simple structure, easy to operate. It is designed for easy transition and operation.
1. The production of the asphalt plant gives full consideration to safety requirements of customers, it adds a number of protective measures. And also, the drying drum boiler uses special boiler steel;
2. Optimize the overall layout: the most reasonable overall structure and layout, make the passage smoothly; cold aggregate feeding system and hot bitumen system can be adapted to a variety of site conditions;
3. Safety and comfort: ergonomically designed equipment by professional sector spatial structure, elegant, comfortable and convenient, while ensuring safe and reliable;
4. Modular Design: Modular design, as well as on-site installation mode analysis to optimize the connection structure, so that the asphalt plant can quickly transfer venue, easy to transport, installation and commissioning.

>Cold Aggregate Feeding System

1.The aggregate hopper is equipped with big size stone sieve, to keep big size stones away.

2.Aggregate feeding is controlled by frequency inverter.

3.The side face of hoppers is equipped with fence to keep safety.

>Middle screen and Inclined Belt

1.The Middle screen can take away the aggregates which size is over 25 mm

2.The belt is mounted with tensioning device.


1.The drum dryer inclined angle: 3°

2.Burner: Oil burner

3.Surface of the drum dryer is with insulation to save the energy.

>Hot Finished Products Elevator

1.Elevator is vertical bucket elevator .

2.Component: rack, plate chain lifting, hopper, tension device and shell

3.Function: take the mixture into finished goods hopper.

1.Standard configuration is cyclone dust filter as the primary dust collecting system.

2.The secondary level dust filter(for option) is the wet dust filter (or bag house dust filter) when the working place has higher environmental requests.


>Control Room and Control System

1.PLC control system, auto start/firing, safety monitoring, automatic fault protection.

2.Weighing control system.

3.Control room:3000×2200×2500mm.

4.The Main electrical elements can be international brand or domestic brand.

>Hot Finished Products Bin

1.It is equipped with cylinder for discharging the hot mixed products.


1,Directly heating Bitumen Tank.
2.Capacity can be 30Ton or 40Ton bitumen tank which is suitable for transportation by sea.

Ⅲ. NCM series Continuous Asphalt Mixing Plant
Introduction

NCM series Asphalt Continuous Mixing Plant, this series continuous mix asphalt plant mounted with continuous mixer, adopted European and American advanced design technology. It makes higher quality and output of the hot finished products, the bitumen and stone will be smoothly mixed, and it is suitable used for different levels of Road construction works.