​Mobile Asphalt Plant in Zamboanga, Philippine - MAP1000
Installation Time: March, 2019
Location: Ipil, Zamboanga, Philippine
Equipment: MAP1000 Mobile Asphalt Mixing Plant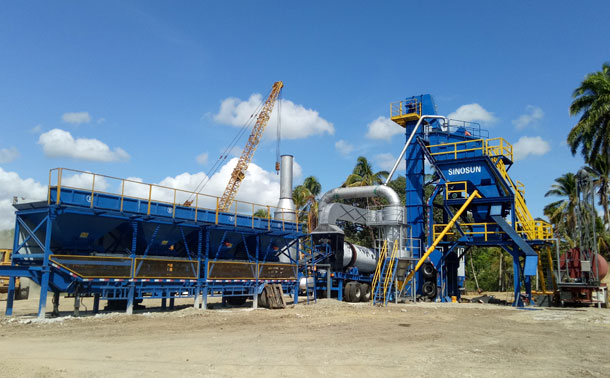 Client Requirement:
This customer needs a set of mobile asphalt plant in Philippine.In the past years, we already exported and installed more than 8 set of asphalt mixing plant in Philippines, that enjoys good reputation and competition in the markets.
After months communication and negotiation, our Philippine's customer choose the MAP1000 mobile asphalt mixing plant with water dust filter for their project.
Solution Offered:
We offered our MAP1000 full mobile asphalt mixing plant with engineers overseas installing and emission for customer.
This MAP1000 mobile asphalt plant mainly includes the main parts as below:
1. Mobile Cold Aggregate Feeding System
Mobile cold aggregate feeding bins with capacity 4*6.5m³ , and there are two clod bins each equipped with 1 vibrator. The cold bins also is equipped with the maintenance platform, safety grid.
2. Mobile Drum Dryer and Burner System
The drum dryer and the burner is mounted on one trailer chassis, integrated design. Simple and easy for transfer to other site.
3. Mobile Mixing Tower with Filler Weighing & Adding System
The Mixing tower is also integrated design. It includes the vibration screen which will divided the different size of aggregate to different hot stone storage hopper, aggregate weighing system, asphalt mixer, bitumen weighing system.
What's more, the mobile mixing tower is new designed with filler adding and weighing system. it can meet some projects special demands for the filler. The filler system includes filler storage hopper, filler weighing screw, filler weighing hopper.

4. Mobile control room with fuel tank and air compressor.
The control room dimension is 4.5m*2.2m*2.5m, large space, bright, comfortable for the operators. The fuel oil tank mounted on this chassis with volume 15m³.
5. Water dust filter system
The water dust filter system includes water dust filter, draught fan, and water pools. The design is much more affordable, and easy for operating and maintenance.