Philbex 2013
Exposition Dates:23~26,May,2013
Venue:Cebu International Convention Center
Booth No.:P75

Welcome to the SINOSUN company of 10TH PHILBEX 2013.
Philippine Building and Construction Exposition in Cebu is the largest and the most significant building and construction trade show organized in the Southeast Asia.It was a B2B trade show which was known to be the ultimate platform where the attendees can came across a wide and comprehensive range of building and construction equipments, materials and services.
PHILBEX was concentrated on the Construction industry.With nearly a decade in the business, it had managed to attract 3,800 visitor profile and boost up sales of nearly a 100 participating number of exhibitors in Construction industry.
In this Exposition,SINSOUN shown the many kind of Asphalt Plant,including Asphalt Batch Mix Plant,Continuous Asphalt Mixing Plant,Mobile Asphalt Plant,ands other construction equipments.Our Asphalt Plant attracted about 300 visitors to came our booth.These visitors also including our regular customers.
PHILBEX was a industrial communication of construction equipments.We also get more latest news and demands on Asphalt Plant.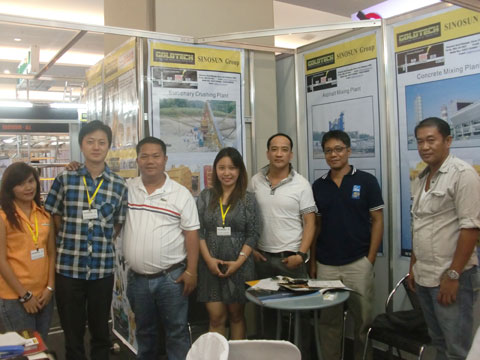 For more info,please contact us:ZHENGZHOU SINOSUN MACHINERY CO.,LTD
Tel :+86-371-89915650 Fax:+86-371-89915651
E-mail:info@sinosun-group.com website :www.sinosun-group.com
Pre:first page Next:CTT 2013
Copyright © Zhengzhou SINOSUN Machinery CO.,LTD