On May 15,2019, Philippine client visit SINOSUN asphalt plant factory. The purpose of this visit is to inspect our SAP80 asphalt plant before delivery.
Main characteristics of SAP80 asphalt mixing plant components as followed :
1.Cold Aggregate Feeding System:large volume for each hopper,and equipped with shortage alarm device.
2.Drying Drum:interior design is more reasonable, the heat exchange is more fully and high drying efficiency, energy saving.
3.Burning system:adopt international famous brand(Italy EBICO burner).
4.The internal design of Asphalt Mixer tightness, stirring blade thick and beautiful.
5.The main components (Asphalt Mixer/Elevator/Drying drum,etc.) have adopted international brands reducer.
6.The main electrical control components and PLC control systems all use SIEMENS brand.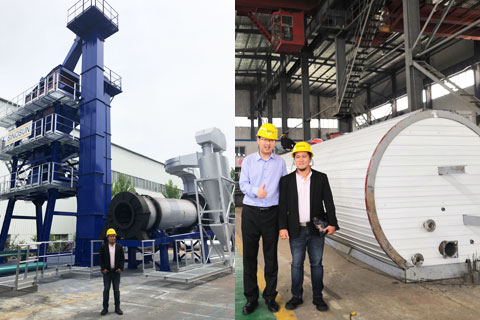 Our clients carefully examine the product design, materials, quality, and they are very satisfied with our asphalt plant and service. We will be in accordance with the requirements of customers to ship the asphalt plant to Philippine for early installation, production, to bring benefits to clients.And our engineer also plan to go to Philippine for installation and debugging of the SAP80 asphalt plant.
For more info about asphalt plant, please contact us:
Tel: +86-371-89915650 Fax: +86-371-89915651
E-mail: info@sinosun-group.com Web: www.sinosun-group.com