SINOSUN Received the Order for SAP80 Asphalt Plant From Kyrgyzstan
We received the new order for SAP80 Asphalt Mixing Plant from Kyrgyzstan customer in September,2022. Thanks for our customer's trust and support.
Kyrgyzstan market is SINOSUN main market in the oversea market, this Kyrgyzstan customer is a main AAA road contractor in local, they cooperated with China construction company for bidding the road project. Through 6 month's negotiation, finally they got the project from the government successfully and signed contract with us. The project is for national road, it will start from next year, we will keep best quality and service for our equipment.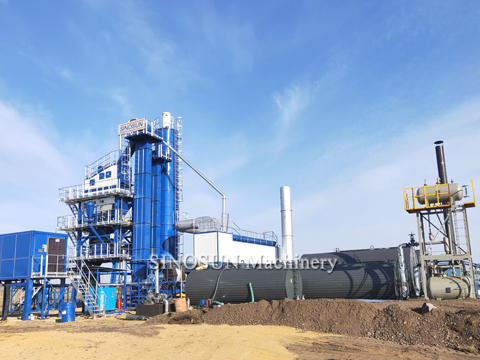 SINOSUN SAP Series asphalt mixing plant is the main type of products in our company. Our asphalt plants are divided into two types: mobile asphalt batching plants and stationary asphalt batching plants. Each kind of asphalt plant has different models with different capacities. The capacity of stationary type is from 40t/h up to 320t/h. And mobile type capacities range from 10t/h to 160t/h. In addition, we also have customization services to meet the requirements of customers. And our installation engineers will also guide the customer to complete a series of work including installation, debugging and training.
Central Asia, with China in the east and west Asia and eastern Europe in the west, is the only route of the ancient "silk road" and the throat Path of "One Belt And One Road" today.
As an important partner of"One Belt And One Road", the five central Asian countries including Kazakhstan, Uzbekistan, Turkmenistan, Kyrgyzstan, Tajikistan have actively integrated into One Belt And One Road construction, and the economy of the five countries have been maintaining vigorous vitality. And our equipment had popular in Central Asia market recently years.
Know more information, please feel free to contact us: ZHENGZHOU SINOSUN MACHINERY CO.,LTD.
Tel.: +86-371-89915650 WhatsApp/WeChat +86 135 2377 6367
Email: info@sinosun-group.com Web: www.sinosun-group.com

Pre:New Order of CAP80T Asphalt Plant From Guatemala Next:last page