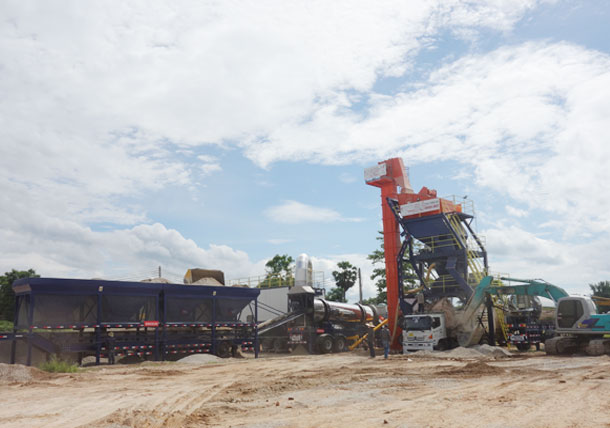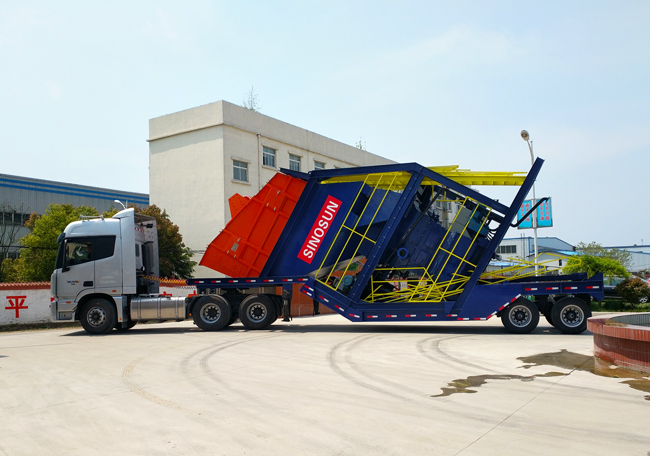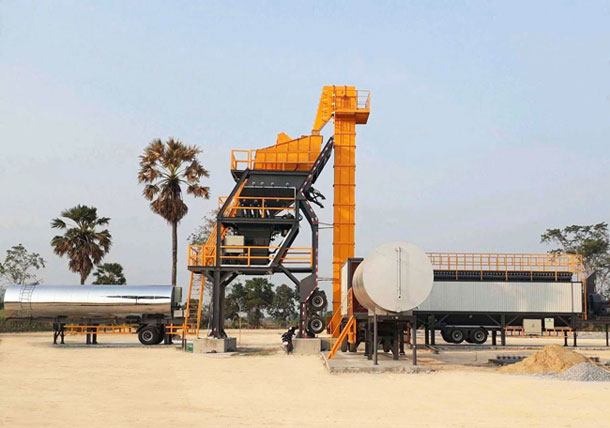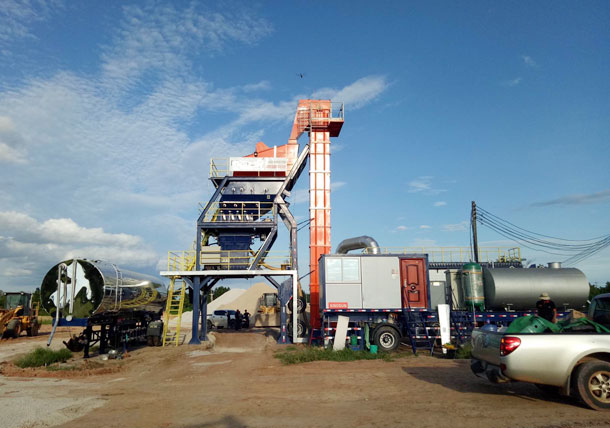 Mobile Asphalt Mixing Plant
> Application: Mainly applied to the construction of airport runway, port, road and bridge and ideal for emergency building of specialized road.
> Capacity Range: 40-120TPH
> Certification: ISO, CE, GOST Certification
> Motor Power: 154-340KW
Request a Quote
SINOSUN- MAP series mobile Asphalt Batch Mix Plant (capacity scope: 40-160t/h)

Introducing Germany Technology for the mixer, the plant is widely applied to the construction of airport runway, port, road and bridge and they are the ideal equipment for emergency building of specialized road. This equipment, with modular construction and compact design, is easy to install, transport and dismantle. It has the following mobile chassis:
1. Mobile Cold Aggregate Feeding System
2. Mobile Drum Dryer with Oil Burner
3. Mobile Mixing Tower
4. Mobile Bag House Dust Collector
5. Mobile Control Room with One Diesel Storage Tank
6. Mobile Bitumen Tank(Option)
7. Mobile Filler Storage and Supplying System(Option)

It adopts PLC programming controller and computer which can carry on the automatic and manual control of every part and every production process. This plant is environmental friendly. The dust emission is less than 20 mg/Nm3 with no pollution to the environment.


>1. Mobile Cold Aggregate Feeding System

The aggregate feeding hoppers and aggregate collecting belt are mounted on one mobile chassis.

The belt feeder that adopts the frequency speed regulator has long speed range, so it runs smoothly and efficiently.


Each discharging gate of hopper has an alarm for the warning of no aggregate in the bins.

There is a vibrator on the wall of bin to avoid blockage.


On the top of each hopper there is a screen to prevent the entry of bigger aggregate, ensuring the reliability of system.

>2. Mobile Drum Dryer with Oil Burner

The mobile drum dryer adopts 4 frictional wheels, which is drived by four synchronous motors. It runs smoothly with low noise.


The temperature of the dried aggregate directly influences the temperature of the final product; Drying efficiency directly influences the consumption of the fuel, thereby the reasonable structure is very important. We fully absorbed the abroad advanced technology of mixing and got satisfying effect and realized the anticipated object.


About the oil burner, we have international brand and domestic brand for you to choose.

The mixing tower includes the vibration screen, hot aggregate storage bin and weighing hopper, asphalt mixer, bitumen weighing, filler weighing(option). All these parts are mounted on one trailer chassis. Easy for installation and transferring to other worksite after you finished project in one place.


The reducer for the mixer can be domestic brand or imported Germany NORD Brand.


The weighing sensors can be Mettler Toledo, USA brand or Chinese Taiwan brand: Airtac.

>4. Mobile Bag House Dust Collector

This dust collecting system is equipped with primary gravity dust collector and secondary bag house dust collector. All the collected aggregate grain is conveyed to the hot aggregate elevator for recycling use.


The secondary dust collecting system bag house dust collector. The bags adopt high temperature resistance material. It can work under rated high temperature,it has long life-span and good ventilation. The efficiency of dust collector can reach up to more than 99%,which fully meet environment protection standard.


The collected filler can be recycling used. Of course, if you do not need, it can be discharged by screw conveyor.

>5. Mobile Control Room and Control System

The electric control system adopts advanced electric components (including products of Siemens, Schneider or Omron) which ensures the reliability of long performance. According to the order of start, the driving control wire sets the protecting lines,thus guarantees the reliability and safety of operation. The motor of the belt feeder in the batching process is controlled by frequency speed regulator, so the regulation precision is improved.


The control room and the diesel tank are mounted in the same chassis to make the full use of the chassis layout.

>6. Mobile Bitumen Storage and Supplying System(Option)

>7. Mobile Filler Storage and Supplying System(Option)
Copyright © Zhengzhou SINOSUN Machinery CO.,LTD